Thank you, donors! The philanthropic support of Brookwood alumni, parents, grandparents, employees and friends allowed the school to enhance faculty support, provide more student financial aid, and offer program support that otherwise would not be possible. The broad base of support signals a strong future and belief in the leadership of the school. Brookwood gifts this year, and every year, make a tangible different in the everyday life of the school.
View the list of donors from the 2017-2018 fiscal year.



Consistent and continuous giving is critical to Brookwood's success. Membership in the Loyalty Circle (denoted in the lists below with a green B) means that you are part of a unique community of donors devoted to shaping the future of Brookwood. Donors become members by making a gift, of any size, to the Brookwood fund for three or more consecutive fiscal years.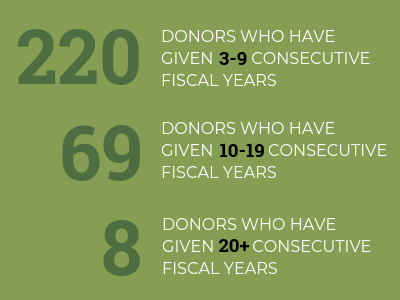 The Gynna and Angier Ames
Endowment for Faculty Support
Established in the spring of 2018 through collective support from the community in memory of Gynna and Angier Ames.
Gynna Ames was a fifth grade teacher who retired in 2015 after 22 years of teaching at Brookwood. We will cherish our memories of Gynna and the profound impact she has had on our community, both as a faculty member and, along with Angier Ames, as a parents to three Brookwood alumni. The Gynna and Angier Ames Endowment for Faculty Support aims to assist faculty in their teaching, creative expression, and discoveries. This endowment will provide Brookwood faculty with the funding they need to enhancetheir areas of expertise and to bring that knowledge into their classrooms, ultimately impacting the Brookwood community as a whole. Thank you to those who have chosen to support the Ames Endowment for Faculty Support.
For more information on supporting this endowment, please contact Bronwyn McCarty, Interim Director of Advancement at (978) 526-4500.


THANK YOU
We are grateful for all that you do to support Brookwood School. Whether through time, treasure or talent, your gift truly made a difference.
Please note, in the lists below, a green B follows the names of Brookwood Loyalty Circle members.


Leadership Gifts
Brookwood offers its most sincere gratitude to the following individuals whose gifts add richness to the life of the school. Leadership giving provides 84% of the annual funds raised; significantly impacting all areas of school life. These contributions provide the foundation from which the school continues to grow and affords the very best to our students. Thank you to those who support Brookwood with these leadership gifts. If your name is not listed, please consider joining your peers before June 30, 2019, so your support for today's students will be recognized next year.

Great Blue Heron
$25,000 and up
Cathe Chiaramonte B
Estate of Susan K. Gardner
Trent and Stratton* Lloyd B
Allison and Joe* Mueller B
The Patrican* Family B

Silver Heron
$10,000-$24,999
Jen and Erich* Buddenhagen B
Nancy Crate B
Elizabeth and John* Godfrey B
Amy Murphy Dowd* and Peter Dowd B
Jenny* and Chris Perkin B
Dorothy and John Remondi B
Claudia and Chat* Reynders B
The Riff* Family B
Ashley and Robert Scott B
Julia and James Stephens B

Black Crowned Heron
$7,500-$9,999
Julie and John* Corcoran B
Michelle and John Morris B
Cynthia* and Armins Rusis B
Kristen and Carter Vinson B

Green Heron
$5,000-$7,499
Anne* and Paul Bolno B
Tanya and John Bos B
Mary and Edward Budd B
Cobb Family B
Amy and Darrell Crate
Nancy and Jay Dawson B
Meg* and Mark du Four B
Laura and Kevin Gillis B
David Groom
Erin and Andrew* Heiskell B
Randa and Michael Pehl B
Amy* and Christopher Remondi B
Kerri and Stephen Richard
Gail and Gerard Sullivan B
Anneliese and Greg Wyler

Heron
$3,000-$4,999
Dyane and Andrew Cotreau
Melissa and Brook '83 Dane B
Helen and Paul* George B
Hanrahan Family
Kristen Cotter and Mark Holland B
Kelly and Jeff Kane B
Marjorie and George Kaplan
Jacquie and Ed Loughery B
Dana and Doug Robie B
Holly and Michael Schmidt B
Stefanie Fogel and Rob Warren B
Stephen Wunker* and Jessica Wattman B

Great Egret
$1,500-$2,999
Anonymous (2)
Sarah and Timothy Brady B
Maida and Bob* Broudo B
Jen and Mike Camp B
Laura Caron and Neil Alsip B
Cristie and Scott '86 Carter B
Judith and George Carter B
Bradley Crate B
Patty Brennan and Joe Demeo B
DeOrio Family B
Malcolm de Sieyes B
Porter and David deSieyes B
George Dhionis B
EBSCO
Theresa Ellis* and Adam Steinmetz B
Nancy and Andy Evans B
Cori Cather and Ray Falconer B
Sarah Wheeler-Gaddipati and Krishna Gaddipati B
Vicki Graboys B
Steven Greisdorf
Kelly and Jan Haas B
Hall Family B
Ashby and Ian Hatch B
Christine and Marty Jarmoc B
Shannon and Ted Johnson
Christina and J.D. LaRock B
Lindsey '85 and Danny Lynch
Kim and Ted '74 Ober B
Karen and Daniel Orband B
Sarika and Akshay* '86 Patel B
Smita and Mahesh Patel B
Gillian and Jonathan Pearlson B
Robin and Michael Price
Elizabeth and Spencer '71 Purinton B
Sue and Cliff Rucker B
Wendy and Ralph Smith B
Pollyann and John Statom B
Samantha and Tommy Sutro B
Nicole and Chris Twomey B
Gina and Frank Weishaupt

Young Alumni Societies (Graduates of the last decade)
Egret: Young Alumni
$100 -$1,499
Hannah Beinecke '08
Tori Cargill '14 B
Sophia Carter '16
Lily Castraberti '16
Ty Cobb '17
Emma Crate '15
Emma Dawson '14
Abby Dawson '17
Will Dwyer '10
Olivia Flowers '13 B
Casey Gillis '15
Kevin Gillis '16
Jack Gustafson '12 B
Hannah Gustafson '13 B
Ryan Haas '16
Alex Haas '17
Abigail Holland '15 B
Jeb Holland '16
Henry Kennelly '09
Trenton Loughery '16
Bethany Lucey '16
Kevin Lucey '14
Vanny Nelson '15
Jordan Pace '09 B
Annie Payson '12
Katharine Payson '15
Grace Perryman '17
Charlotte Reynders '11 B
Clare Reynders '11 B
Hannah Riordan '11
James Riordan '14
Maddie Santo '17
Sophie Shuman '17
AnnaClare Sung '17
Annabella Twomey '13 B
Eliza Twomey '15 B
Mae Viccica '13 B

Cupola: Young Alumni
$15 - $99
Anonymous (3)
Boulo Achor '14
Brett Bidstrup '09
Jake Chase '11 B
Reece Ciampitti '16
Abbie Clavin '09
Hull Collins '13
Nora Collins '16
Jody Desmond '11 B
Lucy Desmond '14 B
Olivia Dumont '17
Alex Emerson '13 B
Pickle Emerson '16
Jamie Forte '14 B
Stephen Friend '12 B
Chris Friend '14 B
Jack Gantt '09 B
Dan Gantt '12 B
Sam Gause '13
Peter Gause '16
Wells Goltra '17
Ellis Hargadon '15
Greg Hill '08
Katya Jagolta '10
Mei Li Johnson '09 B
Clare Kelly '15 B
Shea Kelly '13 B
Hunter Leach '17
Bennett Michaels '12 B
Olivia Michaels '12 B
Lenzie Mitchell '17
Katie Ober '08
Katie O'Brien '15
Kripa Philip '14
Catharine Pirie '08 B
Drew Pirie '10 B
Robyn Pirie '13 B
Louisa Purinton '16
Ben Robb '14
Noah Robb '16
Dylan Roberts '17
Cooper Shugrue '17
Noel Siegert '13 B
Julia Siegert '15 B
Olivia Sutro '17
Lia Swiniarski '13 B
Andrew Swiniarski '15 B
Alumni Donors by Class
CLASS OF '64
Holly Eisemann Cunningham B
Caroline Rogers

CLASS OF '65
Skip Clarke B
Esther Darling Mulroy B
Wendy Shattuck B

CLASS OF '66
David Cutler

CLASS OF '67
Rick Moseley B
David Richardson

CLASS OF '68
Jim Reynolds
Polly Roberts

CLASS OF '69
Carrie Minot Bell B
Ned Herter B
Pip Shepley B

CLASS OF '70
Libby Moseley Edwards B
Amelia Chilcott Fawcett
Paul Rogers B

CLASS OF '71
Anonymous (1)
Rob Metcalf B
Spencer Purinton B
Rick Wykoff B

CLASS OF '72
Noni Pratt
Whitney Wykoff Schumer
Sarah Wilkins B
Heidi Winslow

CLASS OF '73
Hope Amory Bacheldor B
Sarah White Sherwood

CLASS OF '74
Susie Morrill
Ted Ober B

CLASS OF '75
Olivia Farr
Lila Colburn Hunnewell B

CLASS OF '76
Michele Martin Prince B

CLASS OF '77
Regina Rraser Crisman
Amelia Mix Poggi B

CLASS OF '78
Patrick Campbell B
Chris Minot
Jo-Jo Phippen B

CLASS OF '81
Michael Singer '81 B

CLASS OF '82
John Bailly
Julie Clifford Smail B

CLASS OF '83
Brook Dane B

CLASS OF '84
Tom Spang
Arthur Steinert B
Jay Sweet

CLASS OF '85
Anonymous (1)
Lyndsey Buck Lynch
Meg Papin Stickney B

CLASS OF '86
Heidi Paskowski Hanson B
Akshay Patel B

CLASS OF '87
Susan Gallant-Behan B
Scott Koles

CLASS OF '88
Thomas Appleton B
Stephen Peabody B

CLASS OF '89
Becky Seamans Egea B
Amil Shah B

CLASS OF '90
Mark Gustavson B

CLASS OF '91
Sheff Faulkner B

CLASS OF '93
Greg Carroll B
Nicole Suggs Plante B

CLASS OF '94
Jess Nigrelli
David Robbins B

CLASS OF '95
Eliza Brown Cowan B
Matt Herbster
Rachel LoVerme Rosenfeldt*

CLASS OF '96
Emily Dana Bottomley
Katherine Brown B
Lesley Robbins B

CLASS OF '97
Malcolm de Sieyes B
Gavin McGrath B
Will Peterman B
Jessica Ross Stratton B

CLASS OF '98
Jeff Avallon B

CLASS OF '99
Jacqueline Ross B

CLASS OF '00
Vanessa LoVerme Akhtar
Jessie Long*

CLASS OF '01
Jamie Wheeler B

CLASS OF '02
Ali Cotreau
Zach Cotreau
Alyssa Hill

CLASS OF '03
Hattie Kerr
Alex McLain B
Chessye Moseley B

CLASS OF '04
Jared Durgan
Taylor Halsted B
Liza Richardson B
Tricia Williamson

CLASS OF '05
Stephanie Moroney B
Forest Schenck
Haley Thompson

CLASS OF '06
Evan Beinecke
Ariella Bennett
Jake Cotreau
Taylor Purcell
Lyndsey Shepard
Tapley Stephenson

CLASS OF '07
Carolyn Attenborough
Trev Marrero
Noah Medlinsky
Olivia Moseley B
Taylor Pirie B

CLASS OF '08
Hannah Beinecke
Julia Healey
Greg Hill
Katie Ober
Catharine Pirie B
Luke Wellington B

CLASS OF '09
Brett Bidstrup
Abbie Clavin
Jack Gantt B
Mei Li Johnson B
Henry Kennelly
Jordan Pace B

CLASS OF '10
Will Dwyer
Katya Jagolta
Drew Pirie B
Hannah Wellington B

CLASS OF '11
Jake Chase B
Jody Desmond B
Charlotte Reynders B
Clare Reynders B
Hannah Riordan

CLASS OF '12
Stephen Friend B
Dan Gantt B
Jack Gustafson B
Bennett Michaels B
Olivia Michaels B
Annie Payson

CLASS OF '13
Anonymous (1)
Helen Chase B
Hull Collins
Alex Emerson B
Olivia Flowers B
Sam Gause
Hannah Gustafson B
Shea Kelly B
Caroline Massey
Robyn Pirie B
Noel Siegert B
Lia Swiniarski B
Annabella Twomey B
Mae Viccica B

CLASS OF '14
Anonymous (1)
Boulo Achor
Tori Cargill B
Emma Dawson
Lucy Desmond B
Jamie Forte B
Chris Friend B
Kevin Lucey
Kripa Philip
James Riordan
Ben Robb
Emma Wellington B

CLASS OF '15
Emma Crate
Casey Gillis
Ellis Hargadon
Abigail Holland B
Clare Kelly B
Vanny Nelson
Katie O'Brien
Katharine Payson
Julia Siegert B
Andrew Swiniarski B
Eliza Twomey B

CLASS OF '16
Sophia Carter
Lily Castraberti
Reece Ciampitti
Nora Collins
Pickle Emerson
Peter Gause
Kevin Gillis
Ryan Haas
Jeb Holland
Trenton Loughery
Bethany Lucey
Louisa Purinton
Noah Robb

CLASS OF '17
Anonymous (1)
Ty Cobb
Abby Dawson
Olivia Dumont
Wells Goltra
Alex Haas
Hunter Leach
Lenzie Mitchell
Grace Perryman
Dylan Roberts
Maddie Santo
Cooper Shugrue
Sophie Shuman
Cooper Sullivan
AnnaClare Sung
Olivia Sutro
Foundations, Organizations, Vendors and Matching Gift Companies
Apple Lane Foundation
Applied Materials Foundation & Employees
The Boston Foundation
The Francis P. Chiaramonte Family Foundation
Choate, Hall & Stewart LLP
The Clean Team
EBSCO
Essex County Community Foundation
Fidelity Charitable Gift Fund
Fiduciary Charitable Foundation
Gmo & Co., Inc.
Hartford Foundation for Public Giving
The Helen Clay Frick Foundation
Hurdle Hill Foundation
Ipswich Bay Glass Company
Kenwood Foundation
Knapp, Schenck & Co. Insurance Company
Lenoir Charitable Trust
Marciano Construction Corporation
Mccall & Almy
McKinney-Geib Foundation, Inc.
MFS Matching Gift Program
Northern Star Dental Group PC
Northrop Grumman Matching Gifts Program
Old Mutual Asset Management Charitable Foundation, Inc.
The Perkin Fund
Pfizer
Remondi Family Foundation
Robert Lloyd Corkin Charitable Foundation
Saint-Gobain Corporation
Salesforce.org Matching Grants
Schwab Charitable Fund
State Street Foundation, Inc.
The Tamarack Foundation
Truist
Virginia Wellington Cabot Foundation
Wells Fargo Foundation
Endowed Scholarship Funds
Gifts made to Brookwood's Endowment in support of Financial Aid further the School's commitment to enrolling students with a broad range of backgrounds, talents and interests. Gifts may be made to the General Endowed Scholarship Fund, or a named scholarship can be established with a minimum gift of $25,000. Additional gifts may be made to existing named funds to maximize the impact these funds have on our community. A named scholarship brings honor and support to each student recipient.
The Elizabeth D. Begien Scholarship
The Elizabeth D. Begien Scholarship is named after Elizabeth Begien '80 more affectionately known as "Bizzy." Bizzy is remembered for her optimism, resilience, courage and compassion. The scholarship is awarded annually to a student who "exhibits a love of learning and life as well as caring for those around them."
The Covington Scholarship
The Covington Scholarship established by Bonnie and Chris Covington, is awarded to a student of color entering an Upper School grade that exhibits outstanding effort and demonstrates qualities of character and leadership.
The Dodge Scholarship
The Dodge Scholarship is designed to promote diversity and is awarded to a student in the Upper School, who is in high academic standing, puts forth great effort in academics, exhibits qualities of leadership and character and has financial need.
The Josephine Henley Scholarship
The Josephine Henley Scholarship is awarded to a student who is in good standing within the Brookwood community. The opportunity to have a young, vibrant individual attend Brookwood, who would not otherwise have had the chance, is an honorable remembrance of Josephine Henley.
The Eliot Miles Herter Scholarship
The Eliot Miles Herter Scholarship is given to a student whose family demonstrates financial need and as a testament to a student's hard work and a celebration of success to come. Miles Herter's history with Brookwood School began in 1956. As an original incorporator of the school, a trustee from 1957-1974, the Board Treasurer from 1969-1974, a father of four alumni and a grandfather of yet another, Miles Herter's impact on this community has been profound. More than anything else, Miles "was an easy guy to love. He was so understanding and so compassionate and he believed that everybody deserved a second and third chance in life."
Additional gifts this year: David '68 and Laren Herter
The Jaques Family Scholarship
The Jaques Family Scholarship is named after Marjorie Motley Jaques who believed that "love and a good education" are all a child needs. This scholarship goes to a student who is a well-respected member of the Brookwood community.
The Peterman-Klesken Scholarship
The Peterman-Klesken Scholarship is awarded to a student who has a compassion for and love of music. The goal is to name a recipient that has similar compassion and love of music as John Peterman's father and Dan Klesken's parents.
Additional gifts this year: Mary Klesken Phillips and Ralph Phillips
General Endowment
Estate of Sargent Bradlee, Jr.
Alison Nordell '09
Jake Nordell
Nicholas Nordell
Tanner Nordell

Gifts-In-Kind
Shayda Ahi
Brown Family
Theresa Ellis* and Adam Steinmetz
Kelly and Jeff Kane
Trent and Stratton* Lloyd
Jennifer and Jason Lowrey
Lindsey '85 and Danny Lynch
Patricia and Pete Michaels
Aimee and Stephen '88 Peabody
Thank You Brookwood Community!
The philanthropic support of Brookwood alumni, parents, employees and friends allowed the school to enhance faculty support, provide more student financial aid, and offer program support that otherwise would not be possible. The broad base of support signals a strong future and belief in the leadership of the school. Brookwood gifts this year, and every year, make a tangible difference in the every day life of the school. The Brookwood Fund achieved $588,992 for 2017-2018.
Anonymous (13)
Dr. and Mrs. Joseph Abate
Kip and John Abbott B
Katharine Abbott B
Kathryn Abelson B
Annalee and Mark Abelson B
Betsy and Stuart* Abelson B
Maureen and Peter Abramson B
Shayda Ahi B
Huq-Akanda Family
Katie Alexander B
Catherine and John Alsip B
Agnes Amasa B
Debbie and Henry Ames B
Cheri Anderson
Linda and Richard Anderton B
John Appleton B
Elizabeth and Christopher Armstrong B
Louisa and Neale Attenborough
Kristie and Jeff '98 Avallon B
Hope '73 and Robert Bachelder B
Hannah Barker
Anne and Oliver Barker
Lizanne and D.A. Barone B
Barrett Maihos Family B
Danielle and Alfred Barzykowski B
Lori Bassinger
Tom Bassinger B
CJ Bell B
Ariella Bennett '06
Claire and Joe Berardino B
Lindsay and Curt Bergeron
Sheila and Robert Bernier B
Julie and Scott Bernier
Maile Black B
Nicole and James Blum
Anne* and Paul Bolno B
Delphine Bonnette
Tanya and John Bos B
Adella and James Brady B
Sarah and Timothy Brady B
Lisa and Andrew Briggs
Sharon Briggs
Maida and Bob* Broudo B
Brown Family B
Martha Brown
Susan McBride and Paul Brown
Bob Brown B
Jill and Scott Brown
Martha and Stephen Brox
Sue and John Buck
Mary and Edward Budd B
Jen and Erich* Buddenhagen B
Linda and Will Buddenhagen B
Lindsay Budzinski B
Steven and Irena Burke
Lisa Burns
Joshua Cabral B
Deacon & Mrs. Thomas Caliguire
Jen and Mike Camp B
Monika Carbochova B
Deborah Curran and Paula Cardarelli B
Linda Carl
Carl Cohen Family B
Judy and Joel Caron B
Laura Caron and Neil Alsip B
Sarah Carpenter
Virginia and Peter Carr
Lisl and Peter Carr
Laura and Christopher Carrigan B
Meghann and Gregory '93 Carroll B
Cristie and Scott '86 Carter B
Judith and George Carter B
Brian Carver
Carolyn and Clinton Chadsey
Martha Tassinari and Douglas Chan B
Laurence and Jerry Chase
Cathe Chiaramonte B
Roberta and Brian Chirco B
Rick Chute B
The Ciampitti Family
Anya Ciarametaro
Leila and Henry Clay
Cobb Family B
Leanne and Kevin Colannino B
Mrs. I.W. Colburn
Merry and John Conway B
Francine Cook
Mikey Cookson
Julie and John* Corcoran B
Dyane and Andrew Cotreau
Eliza '95 and Peter Cowan B
Amy and Darrell Crate
Bradley Crate B
Nancy Crate B
Erin and Doug Cuff
Holly '64 and Jesse Cunningham B
Jen Cunningham Butler and Dan Butler B
Chuck Curtis B
Laura Cutler
Jing Zhou and David Dai B
Melissa and Brook '83 Dane B
Sarah Dawe B
Nancy and Jay Dawson B
Sara and Giles Day
Porter and David de Sieyes B
Leane Coppola DelGaizo and Jonathan DelGaizo
Patty Brennan and Joe Demeo B
DeOrio Family B
Kacey and Joe Desmond B
Mary and Ambrose Devaney
George Dhionis B
Marianne and Evan Diamond B
Bonnie and Jonathan Dietz B
Anna Maria and Frank D'Ippolito B
Karen and Rich Dobson B
Patty and Marty Doggett B
Susan and Doran Donovan B
Cari and Ernie Donovan B
Megan Donovan B
Sally Milliken and Jim Dooling B
Patricia Doucette Gillis and John Gillis B
Alicia and Mark Drury B
Meg* and Mark du Four B
Christine and Bill Dwyer
Kerlin and James Eardley B
Eileen and Ralph Edelstein B
Alison and Steven Edelstein B
Alex Edwards B
Jane Edwards B
Theresa Ellis* and Adam Steinmetz B
Faith* and Chris Emerson B
Bobbie Erdman B
Kerry and Kelii Erwin
Nancy and Andy Evans B
Kira and Dan Fabrizio
Cori Cather and Ray Falconer B
Barbara Falvey
Sandi and Brian Falvey
Robert Faulkner
Mariko Nagashima and David Fei B
deSouza Feick Family B
Susan and Paul Feick B
Bernice Finley
Elayne and Doug Fodeman B
Beth and Bill Foisy B
Martha and Paul Forte B
Michelle and Charles Fox B
Sylvia and Henry Francescone
Freni Family B
Wendy and Peter Frisch B
Jennifer and Gordon Gabbay
Jen Gabriel
Sarah Wheeler-Gaddipati and Krishna Gaddipati B
Deborah and Charles Gantt B
Sonya and Abdourahamane Garba
Estate of Susan K. Gardner
Alyse and Bill Gause
Andrew Gayle-Bennett and Gladstone Bennett
Helen and Paul* George B
Jessica and Michael Geraty
Sheila and Ron Geraty B
Charlotte and Chris Gibson B
Susan and Leonard Gilardi B
Michael Gill
Laura and Kevin Gillis B
Katharine and Paul Girard
Molly Gistis
Anna Maria Giugliano
Steven Giugliano B
Elizabeth and John* Godfrey B
Erica and Josh Goldstein B
Edith and Tad Goltra B
Lynn and Anthony Goodchild B
Carolyn and Edward Goodman B
Vicki Graboys B
Michelle and Michael Gracey
Cynthia and Jeff Graff B
Alyssa Rayman-Read and Cory Grant
Jody Gray B
Steven Greisdorf
Bobbie Groeber B
David Groom
Kim and Jon Guerster B
Jan Guilbault
Allison and Mark '90 Gustavson B
Kelly and Jan Haas B
Hall Family B
Juliette Halsey
Audrey and David Hanlon B
Hanrahan Family
Margaret and Jes Hansen
Heidi '86 and Trevor Hanson B
Alison and John Harden B
Elvira Harden B
Amanda Harrison B
Sarah and Chris Harrison
Ashby and Ian Hatch B
Pam and Larry Hawes B
Rachel Alexander Healey B
Jane and Robert Heil
Erin and Andrew* Heiskell B
Robert Heiskell
The Henkes Family B
Lee Herter
Gene Hill
Deborah Hiltz B
Sarah and Sven Holch B
Kristen Cotter and Mark Holland B
Caroline and Tom Hovey B
Suzanne Howard B
The Hutchinson Family B
Jamie Hyland
Robin Jackson B
Debbie and Warren Jaferian
Rich Jagolta
Cynthia Janisch B
Christine and Marty Jarmoc B
Anne Jennings B
Annie Johnson B
Lisa Johnson B
Shannon and Ted Johnson
Jen Groeber and Tim Johnson B
Marci Johnson-Howard
Sarah and Bill Joor B
Kelly and Jeff Kane B
Marjorie and George Kaplan
Dan Karthas B
Susie and Fred Kasten B
Dionne and Jeff Kelly B
Suzanne Kelsey and Ken Siegert
Fiona and Michael Kerr B
Susan and Doug Kline B
Gretchen and Paul Knight
Lee and Richard Knight
Polly and John Knowles B
Erin Koeplin
Tony and Marjorie Koles
Elise and Noah Koretz B
Mysha and Adam Kuhlmann B
George Lanes B
Kersten Lanes B
Carrie Lang
G. Lawrence Langford
Kathryn and Bradley Langhorst
Christina and J.D. LaRock B
Cecilia and Jack LaRock B
Corky and John Lavieri B
Danielle Lawson
Nat and Buck Lawton B
Deahn and Russell Leblang
Hoa Lee
Nicole and Rich Lehrer B
Christine and Bill Lemos B
Lin and Mark Lempert B
Jessica and Kent Lenci B
Doris and David Leonhard
Amy Leverone B
Suzy and Andrew Light B
Trent and Stratton* Lloyd B
Jessie and Roger Lobo B
Jessie Long* '00
Jacquie and Ed Loughery B
Jennifer and Jason Lowrey B
Erin and Andy Luman B
Jonelle and Larry Luman B
Christine and Paul Lundberg
Connie and Bernard Lynch B
Lindsey '85 and Danny Lynch
Karen and Tom Mackey B
Susan and Stephen MacKinnon
Nancy Macmillan B
Stacey and Scott Mahon
Ana and Vincent Manzi
Cathy and Mike Marrero B
Diane and David Master B
The Mathey Family B
Irene and Robert McBride
Mary and Daniel McCarthy B
Bronwyn and Tim McCarty B
Wendy and Lester McClain
Heather and Frank McClelland
Pamela and Gardner McCormick
Ginny and Laurie McCoy
Patricia and Edmund McGrath
Amanda and Gavin '97 McGrath B
Kay and Jack McKallagat B
Catie and Gregg McLaughlin
Bill Mead
Herman Mehrtens
Deirdre Menoyo
Seana and Erin Miller
Merritt Miller B
Renee and George Moniz
Baba Davenport and Michael Moonves B
Mayumi and Daniel Morash B
Kris and Jim Moroney B
Michelle and John Morris B
Kacey and Ted Morris B
Anne-Lise and Sherman Morss B
Chessye and Rick '67 Moseley B
Perk and Fred Moseley B
Eileen and Joseph Mueller
Allison and Joe* Mueller B
Lindsay and Ian Murphy B
Mary and William Murphy
The Murphy Family
Amy Murphy Dowd* and Peter Dowd B
Michelle Mustone B
Nelson-Johnson Family B
Joan Nesbit
Neves Family
Jess Nigrelli
Lauren and Nick Notas B
Katie Ober '08
Kim and Ted '74 Ober B
Jana and Henry Oettinger B
Karen and Daniel Orband B
Monica and Malcolm Palmer
Papanickolas Family
Suzie and Gerry Papin B
Libby Parker
Sarika and Akshay* '86 Patel B
Smita and Mahesh Patel B
The Patrican* Family B
Trish and John Patti B
Aimee and Stephen '88 Peabody B
Gillian and Jonathan Pearlson B
Randa and Michael Pehl B
Jenny* and Chris Perkin B
Sarah Perkins B
Brett Perryman B
Katherine and John Peterman
Susan and Steve Pincus B
Dianne and John Pingree B
Jane and John Pirie B
Plante Family B
Jane and Morgan Plummer
Arlynn and Enrique Polletta B
Robin and Michael Price
Elizabeth and Will Prickett B
Elizabeth and David Printy
Carol and John Pruellage B
Elizabeth and Spencer '71 Purinton B
Phillip Gillespie and Daniel Randall
Cheryl and Sean Randall
Annette Randazza
Cynthia Recchia
Amy* and Christopher Remondi B
Dorothy and John Remondi B
Claudia and Chat* Reynders B
Sarah Rial B
Lisa and David Rich B
Kerri and Stephen Richard
Courtney and Benjamin Richardson
Sybil and David Richardson '67
Martha and Robert Richardson
Judy Riff
The Riff* Family B
Lanse and Heather Robb
Nancy and Arthur Roberts
Jennifer and Duane Roberts B
Dana and Doug Robie B
Ruth Robins B
Robitaille Family B
Sue and Harry Rohrer B
Rachel Rosenfeldt* '95
Jenny Howe and David Rosolowski B
Donna Rouisse
Heidi and Marc Rubin B
Sue and Cliff Rucker B
Elizabeth Ruhl* B
Cynthia* and Armins Rusis B
Ola and Mark Russell B
Terra and Scott Samuels B
Jennifer and Gary Santo B
Linda Sarro
Eileen Savage-Creedon B
Jennifer and Kenneth Schaefer B
Joan and Kurt Schaefer B
Meg and Jim Schmidt B
Holly and Michael Schmidt B
Eileen and Bill Schneider B
Isabel and William Schoenberg B
Ashley and Robert Scott B
Stella Mae and Robert Seamans
Rachel and Steven Selby B
Melissa and Patrick Sessions
Ellen and Bruce Shain B
Richard Shapiro
Eileen and Steve Shapiro B
Sarah Shea
Mary Waters Shepley
Peter and Sarah '73 Sherwood
Gail and John Shields B
Madelyn and Thomas Shields
Hatsy and Bill Shields B
Karen and Bill Shorr B
Charity and Robert Showalter
Carey and Dan Shugrue B
Maureen and Robert Siciliano
Susan and Steve Sieker B
Joshua Simmons
Tracy and Paul Simpson B
The Skaane Family B
Julie '82 and David Smail B
Frances and Lawrence Smith
Moira and Jerry Smith B
Becky Smith
Kelly and Tim Smith B
Wendy and Ralph Smith B
Connie Sopic B
Sopic Family B
Rosalie Sorenson
Jill and Chris Soucy
Cynthia Sousa Sparks
Oliver Spalding B
John Sparks
Pollyann and John Statom B
The Steck Family B
Suzanne Pinto and Arthur Steinert '84 B
Julia and James Stephens B
Chad Stern
Kathy Stewart and John Purcell B
Carol Barron and David Stickney
The Stickney Family B
Lorry and Neal Stillman B
Carolyn Stirm B
Ann and Michael Strem
Carole and John Stremple
Gail and Gerard Sullivan B
Carol-Ann and Joe Sullivan B
Iyue and Keesa Sung B
Lynda and Peter Surdam
Samantha and Tommy Sutro B
Evie Sutter B
Margaret and Jay '84 Sweet
Amy and David Swiniarski B
Amy Tangorra B
Meg and Walter Taraska
Taron Family
Leigh Thayer B
Caitlyn and Greg Thomas
Jere Thomson B
Tinger Family
Susan Titus B
Kimberly Tolpa B
Kirsten Trumbull B
Jennifer and Michael Tsappis
Erika and John Turner
Nicole and Chris Twomey B
Kristen and Carter Vinson B
Weija Wang B
Kate and Kevin Ward B
Stefanie Fogel and Rob Warren B
Jacqueline and Richard Watson
Gina and Frank Weishaupt
The Welch / Abate Family
Susie and Christopher Weld B
Lindsay and Celena Welenc B
Claire and Thomas Welenc
Christine and Mike Wellington B
Jean White
Annabel and Ben Wildrick B
Kirk Williams
Susan and Jeff Wilfahrt B
Linda Wilson-Gamage and Peter Gamage
Elizabeth Monroe and Michael Wise B
Kristen and Bruce Wollen
Mary Anne Wood B
Carrie and Tom Woodruff B
Stephen Wunker* and Jessica Wattman B
Anneliese and Greg Wyler
Justin Zappia B
Susan Ricker and Bill Zarakas B
Marc Zoda
Volunteers
2017-17 Parents' Association Officers
President: Anne Bolno
Vice Presidents: Melissa Dane, Allison Mueller, Caroline Shugrue
Treasurer: Sarika Patel
Secretary: Carol Pruellage
Committee Chairs
Admissions: Sarah Brady, Jenny Perkin
Art: Catherine Fenn-Smith, Heidi Rubin
Book Fairs, Holiday: Julie Bernier
Book Fairs, Students: Sandi Falvey, Cynthia Graff, Carol Pruellage
Cultural Enrichment: Gillian Pearlson, Chris Soucy
Faculty Grants: Melissa Dane, Brett Perryman
Faculty Wish List: Lizanne Barone, Melissa Dane
Library, Birthday Books: Helen Brown, Sarah Joor, Kerri Richard
Library, Volunteers: Leanne Colannino, Susan Pincus
Mailing: Jen Camp, Kristen Vinson
Nominating: Alison Harden
Parent Education: Jenny Howe, Catie McLaughlin
School Store: Aimee Peabody, Erika Turner
SHOP to Support Brookwood: Anna Maria Giugliano, Kelly Kane
Class Ambassadors
Pre-Kindergarten: Jennifer Tsappis
Kindergarten: Shannon Johnson, Amanda McGrath
Grade 1: Lindsey Lynch '85, Brian Tinger, Mariah Tinger
Grade 2: Christine Lemos, Aimee Peabody
Grade 3: Evie Sutter
Grade 4: Nedia deSouza, Cari Donovan
Grade 5: Katie Allen, Kathryn Langhorst
Grade 6: Sandi Falvey, Alison Harden
Grade 7: Sarah Holch, Emily Coyne
Grade 8: Nancy Crate, Cristie Carter, Michelle Morris, Jacquie Loughery
2017-18 Board of Trustees
Chair: Chat Reynders
Vice-Chairs: Stratton Lloyd, Jenny Perkin
Treasurer: Amy Murphy Dowd
Assistant Treasurer: Andrew Heiskell
Secretary: Rebecca Riff
Head of School: Laura Caron

Members
Stuart Abelson
Anne Bolno
Bob Broudo
Erich Buddenhagen
John Corcoran
Meg du Four
Theresa Ellis
Faith Emerson
Paul George
John Godfrey
Jessie Long '00
Joe Mueller
Akshay Patel '86
Brian Patrican
Amy Remondi
Rachel Rosenfeldt '95
Elizabeth Ruhl
Cynthia Rusis
Stephen Wunker